Details

Category: MultiMedia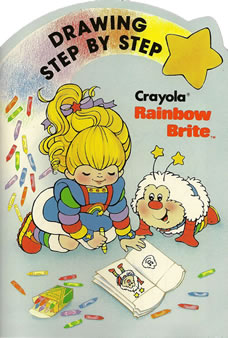 Ever wonder how to draw Rainbow Brite, a Sprite, or Murky Dismal? This is the book for you! Learn how to draw 7 different Rainbow Brite characters step by step!
Characters included:
Rainbow Brite
Red Butler
Twink (male sprite)
Starlite
Posie (female sprite)
Lurky
Murky Dismal
Click on the image above to download! Enjoy!
Details

Category: MultiMedia
Happy Easter from Rainbow Land!
Download and use these fun and color easter images for your egg finding fun!
Click the image below to download!

Have an happy easter, and a rainbow day!
Details

Category: MultiMedia
Hey! Are you a Rainbow Brite Artist? Do you sometimes want to put the Rainbow Brite logo on your work but can't find it? Well, here it is!
After sifting through numorus free font websites we found one that DOES match the logo. It's called "RollingNoOne" and it is free!
How close is it to the original logo? Well lets see.
Below is a copy of the original logo from a vintage coloring book.

This is the same style logo using the RollingNoOne Font in either a blue or red color. The letter spacing is edited in an image program, and an outline added using the same program.
It's not exactly the same but it's the closest we were able to find.


We hope you enjoy the font and please let us know if you use it so we can feature your art work!
Click here to download the font
Details

Category: MultiMedia
AIM Icons: Right click and save as
Rainbow Brite








Color Kids









Non Color Kids







Villians

New

Details

Category: MultiMedia
Custom made Rainbow Brite and the Color Kids Wallpapers
Right Click and Save As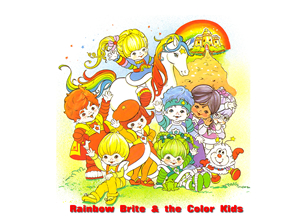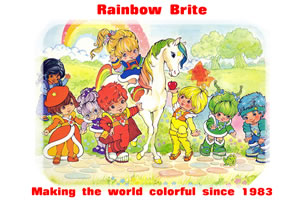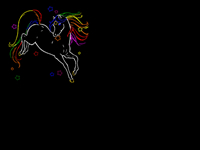 German Language Comic Book Scans