Details

Category: Share the Rainbow
Hey Color Kids,
It's been a very busy few months! Between the announcement of the new Rainbow Brite from Feeln, Dragon Con, the new show airing on Feeln, the Holidays and much more we are trying to catch up here on RainbowBrite.Co.Uk with all new information and archiving of your favorite original series. 
One thing that we did do is register with Instagram and hope to share some nice pictures with you soon.
Please check all the social links located on the left side of the screen to see what all we've been up to!
Until later, have a Rainbow Day and always look on the Brite Side!


Details

Category: Share the Rainbow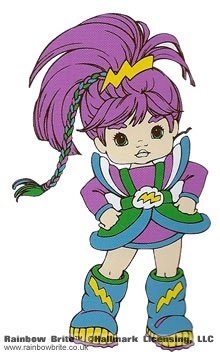 Hey Color Kids,
At least one day out of the year I like to have fun too! Hope you guys don't mind if I take over the controls for a while.
What's your favorite time of year? What is something you look forward to?
Have a Stormy Day!
STORMY and SKYDANCER
Details

Category: Share the Rainbow
Hello Color Kids!
For the last few years Murky Dismal has had a very fun tradition of pulling a prank on RainbowBrite.Co.Uk and it's visitors. It first started when he stole all the color, and call us "Rainbow Brat"! Then he actually flipped the website so it was inside out and upside down! This year, we have been trapped in a time warp! This year we have been taken back to and returned from 1996!
We hope you enjoyed that little trip!
Have a Rainbow Day!

Details

Category: Share the Rainbow
Greetings Fans,
Last year you may remember we gave away a Bettina Bush CD of "An American Christmas". This year we are proud to report that you can have your very own copy on Itunes , Amazon.com or CD Baby for .99 cents. The proceeds of the song are going to charity in honor of Bettina's father.
In this video below join Bettina as she opens a window into her life. Proud mother to two adorable children and honored daughter of an American Air Force Veteran.  Bettina is having a wonderful Holiday promotion in honor of her father and she would love for you be a part of it. Visit the facebook page here and share your stories or Tweet #HonorYourHeroes on Twitter in honor of someone you love.
Who are your heroes? Your parents? First grade teacher? Your best friend? Tell them now and let them know and spread the word!
Have a Rainbow Day!
Details

Category: Share the Rainbow

Did you know that the year Rainbow Brite originally aired it was an Olympic summer?
Yep, Rainbow Brite aired June of 1984 which was the summer that the Olympic games were held in Los Angeles California.
This year's Olympic games, which are due to air in a matter of hours are also blessed with their own Rainbows. The Mascots for the 2012 London Olympic games are two whimsical magical creatures enchanted by a rainbow, and when the games begin, it will be a rainbow that gets them there! If you haven't seen the story behind the two cute and colorful mascots for this summer, please visit the official website to get caught up before the games begin!