Details

Category: Press Releases and Newsletters
KANSAS CITY, Mo. (J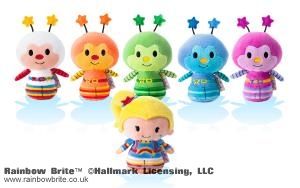 une 22, 2015) — Fans of Rainbow Brite™, the 1980s character created by Hallmark who uses the colors of the rainbow to make the world brighter and hearts lighter, are in for a colorful treat.
The first batch of Hallmark's new products reviving the classic Rainbow Brite characters is now available for sale exclusively online at Hallmark.com.
Hallmark is offering a limited edition run of new Rainbow Brite itty bittys®, the popular four-inch high, stylized plush line featuring the classic characters. Only 500 of each of the six Rainbow Brite Limited Edition itty bittys characters were produced, and they are being sold only through Hallmark.com.
"We're thrilled to bring Rainbow Brite fans the characters they love with a new level of pint-sized cuteness," says Hilary Butler, product manager for Hallmark. "These online-only, Limited Edition itty bittys will just be around for a short time, but never fear, more colorful, classic Rainbow Brite products will be coming to Hallmark Gold Crown stores starting in August."
The online only, limited edition versions are variants of the Rainbow Brite itty bittys that will be available starting in August in Hallmark Gold Crown® stores. The Limited Edition itty bittys have slight differences in color and details, and they sell for $6.95 each. The characters are Rainbow Brite, Twink, and four Color Sprites – Champ (blue), Lucky (green), O.J. (orange) and I.Q. (purple).
Hallmark.com can ship to valid USPS addresses within the United States; international shipping is not available.
Follow Rainbow Brite on Facebook and Twitter for additional details about the other classic products coming to Hallmark Gold Crown stores and Hallmark.com this fall.
Details

Category: Press Releases and Newsletters

Rainbow Brite fans of yesteryear know what they like, and that is the original Rainbow Brite designs.
United Media's newest News Letter reveals "Classic Rainbow Brite Items" to be released at Target's "See. Spot. Save." summer program!
The scheduled release date is July 11th and will include the following items:
Fuzzy art and magnet assortment
Roller stamper markers, 6 pk markers and charm pen
Magnetic list pads/sticky notes
push pencils
3D notebook & die cut memo pads
Keep an eye out for these wonderful new items!

Do you know what "See. Spot. Save." is?
See. Spot. Save. is Target's discount section, normally located in the front of the store. This location is where you can find great products for under $5. Most which is only $1. This is a great place to get those grab-bag goodies for parties and more! This is an excellent way to "Share the Rainbow" with those close to you!
Read more about this on United Media's Newsletter.
Details

Category: Press Releases and Newsletters
Fantastic News from United Media in their March News Letter. Sales are doing well on the dolls, so United Media is branching out for more with girl's sleepwear from SaraMax, which are to be sold at Bealls department stores! Hopefully others will follow soon. Check to see if their is a Bealls close to you!
If you like, please check out the complete news letter here.
It follows more information such as the release of Goodnight Moon products based on the beloved children's book, Fancy Nancy, Hoops and Yoyo, and much much more!
Hopefully this news has made your day a little bit brighter!
Keep looking up, and have a Rainbow Day!
Details

Category: Press Releases and Newsletters
United Media shows high hopes for the new Rainbow Brite line. Here is a quote from their artical.

On Rainbow Brite's new look, Diana Stuart, creative vice-president for Hallmark Properties, says "Rainbow Brite is returning to Rainbow Land as a 10-year-old girl after spending some years back home on Earth with her family. We wanted to bring her back older, stronger, and wiser with abilities that will speak to a new generation of kids both in the physical and virtual world. Like the original, she still appeals to children four to eight."

Stuart continues, "When we talk to fans or go to the fan blogs, they pause for a minute with the new look, and then they say, 'We always drew her a little bit older when we drew her ourselves,' and a lot of the new elements feel very right to them. The intent certainly is to keep her values very much the same as they were and very wholesome."

Read the rest of the release here.
Details

Category: Press Releases and Newsletters
"Rainbow Brite's master toy licensee Playmates Toys will be unveiling its much anticipated line of a con-temporized fashion dolls and horses exclusively at Toys R' Us in time for holiday 2009, honoring the nostalgic look, indomitable spirit and energy that Rainbow Brite embodies with a trendy tween redesign that girls will adore. " ~ Read more Here