KANSAS CITY, Mo. (J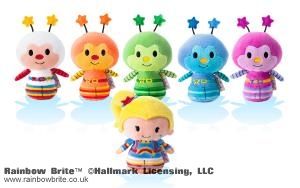 une 22, 2015) — Fans of Rainbow Brite™, the 1980s character created by Hallmark who uses the colors of the rainbow to make the world brighter and hearts lighter, are in for a colorful treat.
The first batch of Hallmark's new products reviving the classic Rainbow Brite characters is now available for sale exclusively online at Hallmark.com.
Hallmark is offering a limited edition run of new Rainbow Brite itty bittys®, the popular four-inch high, stylized plush line featuring the classic characters. Only 500 of each of the six Rainbow Brite Limited Edition itty bittys characters were produced, and they are being sold only through Hallmark.com.
"We're thrilled to bring Rainbow Brite fans the characters they love with a new level of pint-sized cuteness," says Hilary Butler, product manager for Hallmark. "These online-only, Limited Edition itty bittys will just be around for a short time, but never fear, more colorful, classic Rainbow Brite products will be coming to Hallmark Gold Crown stores starting in August."
The online only, limited edition versions are variants of the Rainbow Brite itty bittys that will be available starting in August in Hallmark Gold Crown® stores. The Limited Edition itty bittys have slight differences in color and details, and they sell for $6.95 each. The characters are Rainbow Brite, Twink, and four Color Sprites – Champ (blue), Lucky (green), O.J. (orange) and I.Q. (purple).
Hallmark.com can ship to valid USPS addresses within the United States; international shipping is not available.
Follow Rainbow Brite on Facebook and Twitter for additional details about the other classic products coming to Hallmark Gold Crown stores and Hallmark.com this fall.