Details

Category: News
RainbowBrite.Com is NOW LIVE!
Come meet the NEW Rainbow Brite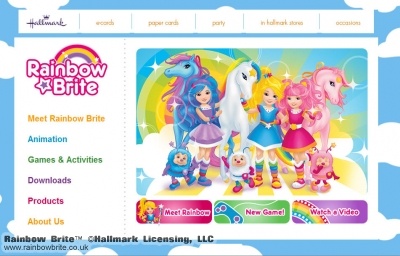 Details

Category: News
Greetings fellow fans!
If you may have noticed we here at Rainbow Brite.Co.Uk/Rainbow Brite.Us have decided to redesign the site. With it we hope to bring fourth amazing new features and articals you will enjoy!
Features currenting in the works:
Wiki*Brite: The Rainbow Brite Wiki. A fun way to archive and make it easy to access information about Rainbow Brite all in one place.
A Rainbow Brite Photo Gallery: See rare images, as well as classic and new images of Rainbow Brite and her friends!
Features we are hoping to bring you in the coming future:
Rainbow Brite Podcast: the maintainers of 3 Rainbow Brite Fansites are joining forces to bring you opinions and news about Rainbow Brite, past and present!
Please bare with us as we get this information completed for you all!
Have a Rainbow Day!
Details

Category: News

Rainbow Brite and Friends:
Moonglow, Nite, Starlite, Rainbow Brite, Twink, Twilite, Tickled Pink and Sunriser

Where can these images be found? on Stickers released by Stickeroni, a division of Hallmark.
Look where Hallmark Products are sold!
Details

Category: News
New information from Playmates Toys regarding the NEW Rainbow Brite Toy line:

Each horse will be the same size as the dolls so that they can ride them

Each girl will have her own sprite which will giggle when you squeeze them.

Sunriser and Shimmer are Female, Starlite is male.

Twink = Twinkle

Expect new information to come this summer!
Details

Category: News
Fall Release schedule for new toys are:
Rainbow Brite and Starlite
Moonglow and Shimmer
Tickled Pink and Sunriser
Thanks to PlaymatesToys for this information.
Rainbow Brite Press Releases and News Letters